Click here to view the awards - Sublimis - Gold Award
Health Benefits Of EVOO
These EVOOS are rich in monounsaturated fats (especially oleic acid) and natural antioxidants such as Vitamin E, polyphenols, and carotene. Several studies have linked diets that include monounsaturated fats like extra-virgin olive oil to reduced risk of heart disease. And more recently, a study found that olive oil that contain polyphenols, may help prevent cell aging and osteoporosis. Polyphenols may also help to reduce risk of developing aging-related diseases, such as heart disease, cancer, Alzheimer's and diabetes.
Producer Profile
The history of the Frantoio Agostini is a great story of passion, tradition, and excellence. The story began 70 years ago in the beautiful region of Le Marche Italy - located in the center of Italy in the Aso Valley between the Sibillini Mountains and the Adriatic Sea where the air is fresh and pure and the climate is ideal for olive trees. The activity of this mill was handed down from father to son and today, is in the third generation. The Agostini Olive Mill has been nominated as one of the 200 best olive mills in the world.The Agostini olive oil mill, matching a heritage of tradition and innovation has produced an unique and unforgettable oil Ensuring a high quality. Today Agostini olive oil mill's business has grown further, the company has achieved significant results, for exemple : Agostini olive oil mill Agostini has been included among the 200 best olive oil mill in the World by the prestigious German gastronomic magazine "Der Feinschmecker".

The Agostini family moved from grain cultivation to Extra Virgin Olive Oil production in 1945. The three principles guiding our passion are : quality, sustainability and innovation in the absolute respect of our land. We have submitted our Extra Virgin Olive Oils to strict quality standards, achieving numerous recognitions also for the economic sustainability of our products. We offer the highest quality at competitive prices because we think the pleasure of good food and of healthy eating should not be a luxury good. Our company project consists of : "A company that gives to Sustainability and Biodiversity the importance they deserve ". The certification application of Extra Virgin Olive Oil submitted in 1999 was recognized in 2002, then after three years of canonical evaluation. In 2010 we decided to eliminate the old energy systems for renewable energies investing in a photovoltaic plant positioned on the roof of the olive oil mill.

In 2012 we installed a plant that extracts the "nocciolino di sansa" of olives. A 100% natural and ecological biomass fuel . Today, we know well that the obstacles we deal with our project are still many and difficult, but we are happy with what we have achieved with our humility spirit of sacrifice. We look forward to the future with optimism and dreaming of a healthy agriculture
and fully Eco-Compatible.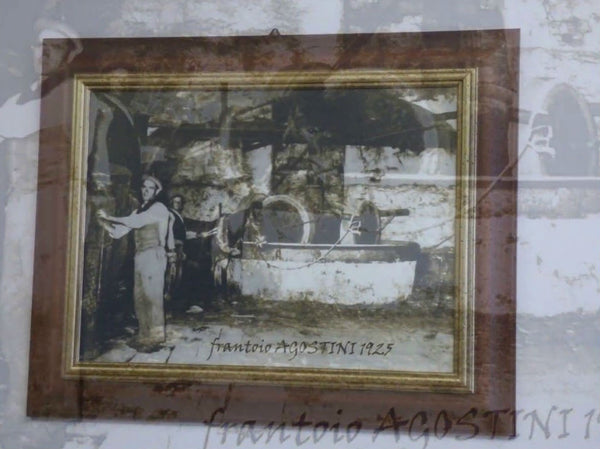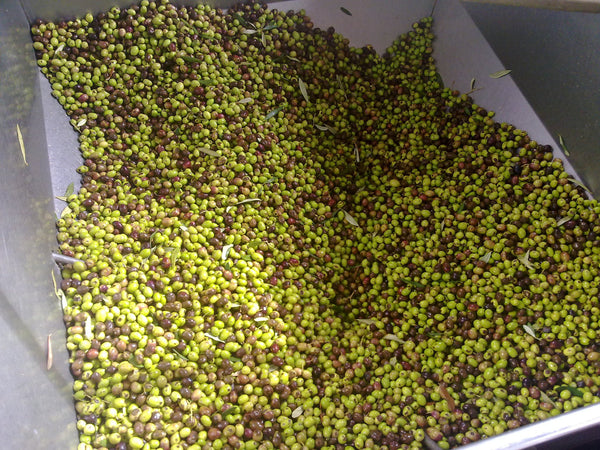 Unforgettable Taste
The finest selection of these olive oils will seduce any food lover who is in search of an authentic food experience. Each type has its own unique taste and aroma. The producer of this delicious oil continues to honor their commitment to producing true, genuine quality extra virgin olive oils without compromise. It is produced in small batches and has limited quantity.
---
Blog posts
Beautiful Day in Italy (Le Marche) During Olive Harvest
November 05, 2017
Olivaplususa.com Ever since I starting importing olive oil, it was my heart's desire to help with a harvest -(raccolta delle olive - as the Italians say). Our friends, Charlie and India (Appassionata Properties - appassionata.com) invited us to take part in the harvest of 2017 in their groves while we were staying in Le Marche. We jumped at the chance. The October day was sunny and beautiful with a high temperature of 72 degrees....perfect! Here's how it all works - First off, It is important not to bruise the olives during the harvest because this can lead to decay. We...